GANGA. Language of Love #1.5: Those nights in Montreal, de Beverley Kendall (+18)
</div>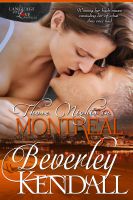 Sinopsis:
An ex is an ex for a reason. To Rebecca Winters, it's not just a saying, it's a rule she staunchly lives by. Especially since the break up with her ex. What's the point in trying to fix the "unfixable"? Besides, only a girl hell-bent on more heartbreak would go back to the guy who bailed on her when she needed him most. But saying no to Scott is becoming impossible.
Bueno, debería estar estudiando para un examen (y hey, lo estoy haciendo) pero acabo de ver algo que simplemente tengo que publicar. Beverley Kendall, autora de When in Paris,  posteó en su página de Facebook el siguiente mensaje a las 9:41pm, hoy 23 de mayo:
"Estoy regalando copias gratuitas de Those nights in Montreal en Smashwords.com a las primeras 100 personas que rediman el siguiente código: CU52W."
Yo ya lo hice y es súper fácil, además de que es posible descargarlo en .epub, .mobi o leerlo online. ¡Corran antes de que se acaben!


Actualización:

No sé si el cupón ya se venció pero hoy, 27 de mayo, en celebración por el Memorial Day está gratis en Amazon. 
Posts relacionados: